Today's fast-changing market requires organizations to be in tune with their customer's shifting needs. This requires organizations to stay grounded in customer-centricity and have a deep understanding of how their products serve their customers.
This has put "product" in the spotlight for many organizations. They are no longer focused on driving projects forward, but rather, on engaging customers and putting them at the center of the products they create.
The Varying Roles in Product Management
Typically, organizations support their product management space with varying levels of professionals - from product owners to senior product managers or even a chief of product. The journey from a product owner to a senior product manager requires a shift in scope. That is, they move from working with a single product or a subset of a product line to working with multiple products or a full product line.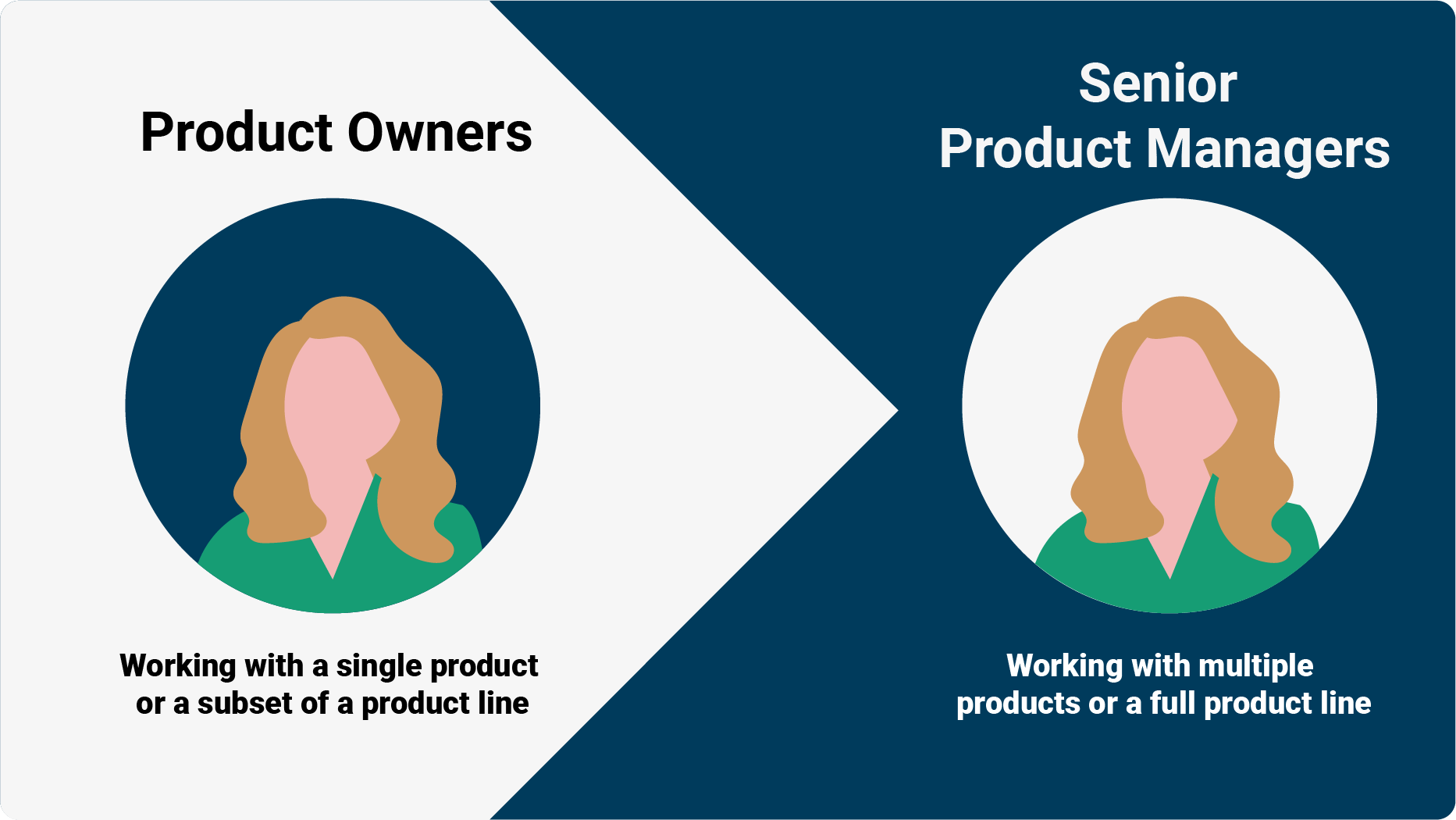 Skills Needed for Product Owners
Product owners are responsible for focusing on customer needs and the value delivered by a product or a subset of a product.
Some of the key skills product owners need are:
Facilitation and communication skills. Product owners must be skilled at facilitation and communication in order to bring clarity and alignment to everyone involved.
Understanding both the business and the customer's needs. Having empathy for customers is critical for successfully delivering products that meet their needs. Effective product owners are also able to balance the needs of the business and the customers to maximize the value to customers.

Aligning with stakeholders and the team. It's important to understand the stakeholders' needs and maintain ongoing communication with them to build shared understanding. This not only helps align expectations regarding product delivery but will also help the product owner create a bridge between stakeholders and the team.

Ensuring the product vision is aligned with the product plan and development. Product owners are responsible for ensuring the product vision is realized so that the customer's needs are met. They do this by aligning the scope of work with the product vision, creating product plans that provide insight into the future direction of the product, and ensuring the development of the product fulfills the vision.

Assessing and informing the way forward. Just because a team started with a plan does not mean that the team will deliver every element of that plan. Product owners need to assess the results of experiments, gather feedback from customers, and advise on whether the team should continue, pivot, or stop.

Skills Needed for Senior Product Managers
Senior product managers have a broader scope of work and often develop product strategies and focus on long-term views of products. Senior product managers might also focus on scaling products and portfolios and examining how a full line of products serves their customer's needs.
Some of the key skills senior product managers need are:
Understanding the market and leveraging research. Senior product managers must be able to leverage different research approaches to collect and grow ideas, solve existing problems, and discover new opportunities. This approach, coupled with a deep understanding of the market will help create a successful product.

Keeping business drivers in mind. Product management must align with the mission of the broader organization and go beyond pure financial return. Senior product managers must understand what goals the organization has for the product (e.g., impact, revenue, market share, cost reduction) and consider how the business's mission and goals can introduce constraints on the product (e.g., risk, legal and regulatory, compliance, sustainability).

Crafting a strategy and vision. Everyone involved in the making of a product should share a vision. The best product managers create a compelling vision and choose the right metrics to track the success of a product effectively.

Running experiments and leveraging insights to inform what product to build. Rapid learning is a key competency in the uncertain world of product discovery. It's imperative for senior product managers to design good experiments (e.g. frame hypotheses, make them measurable, test for customer behavior) to maximize learnings and inform product decisions.

Understanding the product and its lifecycle. The best senior product managers live and breathe their products. There is little about the product and its lifecycle that they do not know. And because the product moves through a product lifecycle, the senior product manager must know how to evolve the structure and composition of the product team.

Investing in training to grow and retain talent
As organizations hire more product managers, they see the value of equipping their people with product management skills. According to the Future of Product Management Report, 94% of product professionals will stay with a company longer if the company invests in their professional development. Organizations that invest in their people also benefit from building internal capabilities and increasing retention.
As organizations hire and grow talent, they need to consider these imperative skills for both product owners and senior product managers to ensure their products serve their customers' needs in the right way, at the right time.