Thinking about the next step on your agile journey? Becoming an agile coach or bringing agile coaching to your organization is a powerful way to strengthen an agile transformation.
With so many coaching certification programs available, it can be hard to know which program is right for you. A common question we hear is, "Should I start with agile team coaching or enterprise agile coaching?"
The short answer: it depends.
Here's an overview of both types of coaching and a short guide to help you decide which is right for you or your organization.
What Is Agile Team Coaching?
An Agile Team Coach supports a team or multiple teams as they drive towards outcomes and growth. Whether the team(s) are in HR, sales, IT, marketing, procurement, or another domain, the Agile Team Coach guides and mentors team members. The goal is to help the team improve their performance and their ability to deliver value.
For example, an Agile Team Coach could help three software development teams implement agile ways of working with the ultimate goal of improving customer satisfaction with the product the teams develop.
What Is Enterprise Agile Coaching?
An Enterprise Agile Coach supports leaders as they focus on increasing business agility across the organization. This could include advising on organizational structures, facilitating value-driven workshops across departments, coaching leaders to articulate clear strategy and outcomes for the organization that align with cultural norms, and engaging with HR to develop internal career paths.
For example, an Enterprise Agile Coach could support an organization's C-suite executives and HR leaders to create a company-wide performance review program that supports agile ways of working.
Similarities: Agile Team Coaching and Enterprise Agile Coaching
All agile coaches, including team and enterprise coaches, should have the following skills:
Facilitation
Coaching
Mentoring/Educating

Conflict resolution
Team development
Experience working in an agile environment
In general, great coaches also have these soft skills: empathy, presence, self-awareness, self-management, and the ability to build trusting relationships.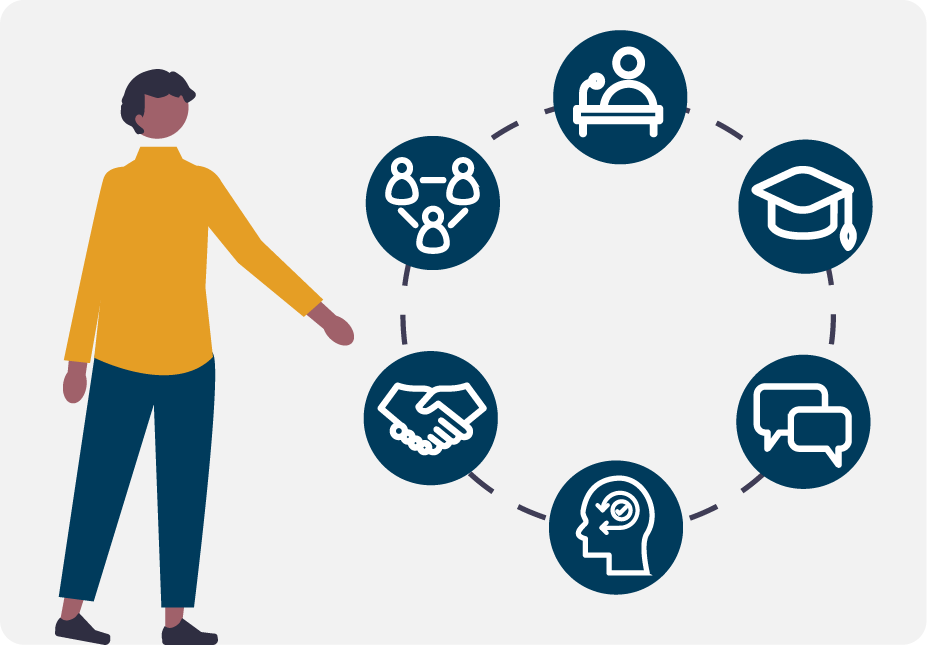 Differences: Agile Team Coaching Vs. Enterprise Agile Coaching
Agile team coaching and enterprise agile coaching differ in two key areas: scope and coachees.
Enterprise agile coaching has a broad scope, focusing on the whole organization. In contrast, agile team coaching has a narrower scope, focusing on one part of the organization.
Enterprise and agile team coaches also work with two different audiences. An Enterprise Agile Coach supports leaders, including senior and executive leadership. An Agile Team Coach works with the members of specific teams, including individual contributors, managers, and team leads.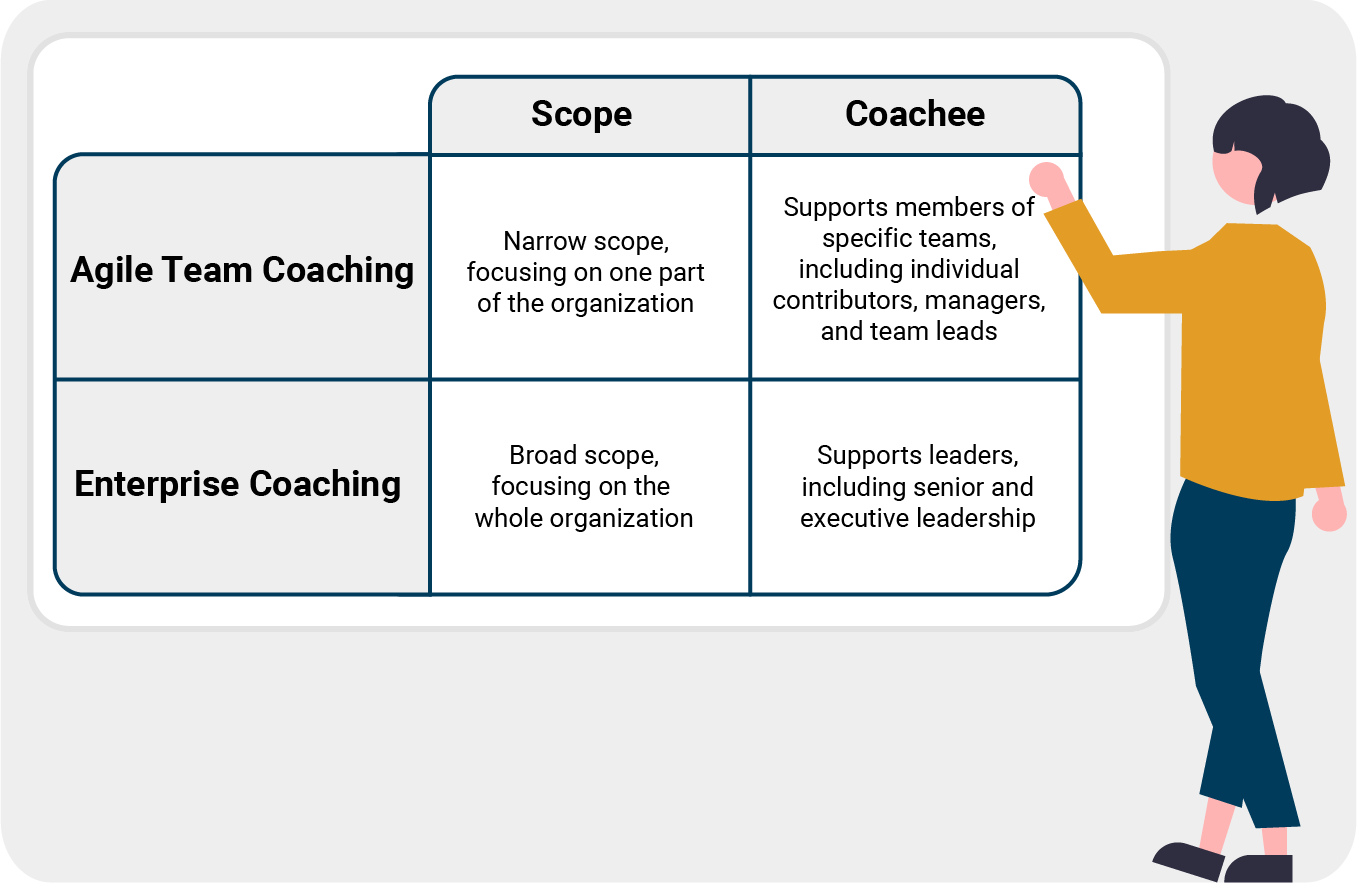 For Organizations: Which Coaching Do We Need?
An organization pursuing business agility needs both agile team coaches and enterprise agile coaches. Enterprise agile coaches can help the organization create a strategy for business agility, but without agile team coaches supporting the execution of that strategy, the agile transformation will stall.
We know it's not always possible to bring in two types of coaches at the same time. If you can only bring in one, here's what we recommend:
If you're just starting your business agility transformation, pursue enterprise agile coaching. Successful business agility starts with leaders, and enterprise agile coaching provides the best support for leaders.
If your delivery teams are successfully applying agile ways of working and you want to expand agility across your organization, pursue enterprise agile coaching. Many companies begin their agile journey with IT teams. Enterprise agile coaches can help organizational leaders bring agility to the whole organization.
If your organization's biggest challenge is teams that are struggling with productivity, quality or predictability, then pursue agile team coaching first. An Agile Team Coach can help teams leverage agility in pursuit of growth and high performance.
For Individuals: Which Coaching Certification Should I Pursue?
There's no right or wrong answer, it all depends on your interests and skill set.
Successful enterprise agile coaches have business acumen and an understanding of organizational design, organizational culture, and facilitation across boundaries. Enterprise agile coaches also have the confidence to coach senior leaders and executives.
Successful agile team coaches draw from their experiences in agile environments to provide teaching, mentoring, facilitation and coaching to teams in support of delivering value. They also have the skills to support team development and a culture of collaboration.
What About Systems Coaching?
At ICAgile, Systems Coaching is not a comprehensive coaching journey, but a course that helps agile coaches and leaders deepen their ability to work with complex adaptive systems.
While the Enterprise Agile Coaching course includes basic information about Systems and Complexity Theory, ICAgile's Systems Coaching course goes much more in-depth into systems thinking and coaching so there is very little overlap in the curriculum.