Whether you're an established business, scrappy startup, non-profit, or government organization, realizing your vision in today's world hinges on your ability to lead continuous change from within your organization. In this post, we'll explain why agility in leadership and enterprise agile coaching are essential for business agility and what the capability-building journey entails for organizations.
To start, what is business agility?
The Business Agility Institute defines it as "a set of organizational capabilities, behaviors, and ways of working that affords your business (or organization) the freedom, flexibility, and resilience to achieve its purpose. No matter what the future brings." We at ICAgile agree and believe this applies to all organizations seeking to realize a vision and positively impact the world. We also believe that a culture that values and prioritizes continuous learning is paramount for business agility.
"Business agility is a set of organizational capabilities, behaviors, and ways of working that affords your business (or organization) the freedom, flexibility, and resilience to achieve its purpose. No matter what the future brings."

—Business Agility Institute
So, how do we get there?
The last twenty years have seen many flavors of agile transformation approaches yield varying degrees of success. Emerging at the helm of these efforts, Agile Team Coaching and Enterprise Agile Coaching have gone from unknown terms to sought-after roles and popular career paths. Yet many organizations have stumbled, stagnated, and struggled on the agile transformation roller coaster. Most often, this is because these initiatives take the form of a process-led transformation where 90% of the focus is on frameworks, methodologies, tools, and techniques.
Meanwhile, genuine sustainable agility is realized through people, not process. Instead of a process-led agile transformation, it's about a much deeper journey of cultural and behavioral change that helps organizations build the capabilities they need to thrive in response to change, delight customers, and unleash people's full potential.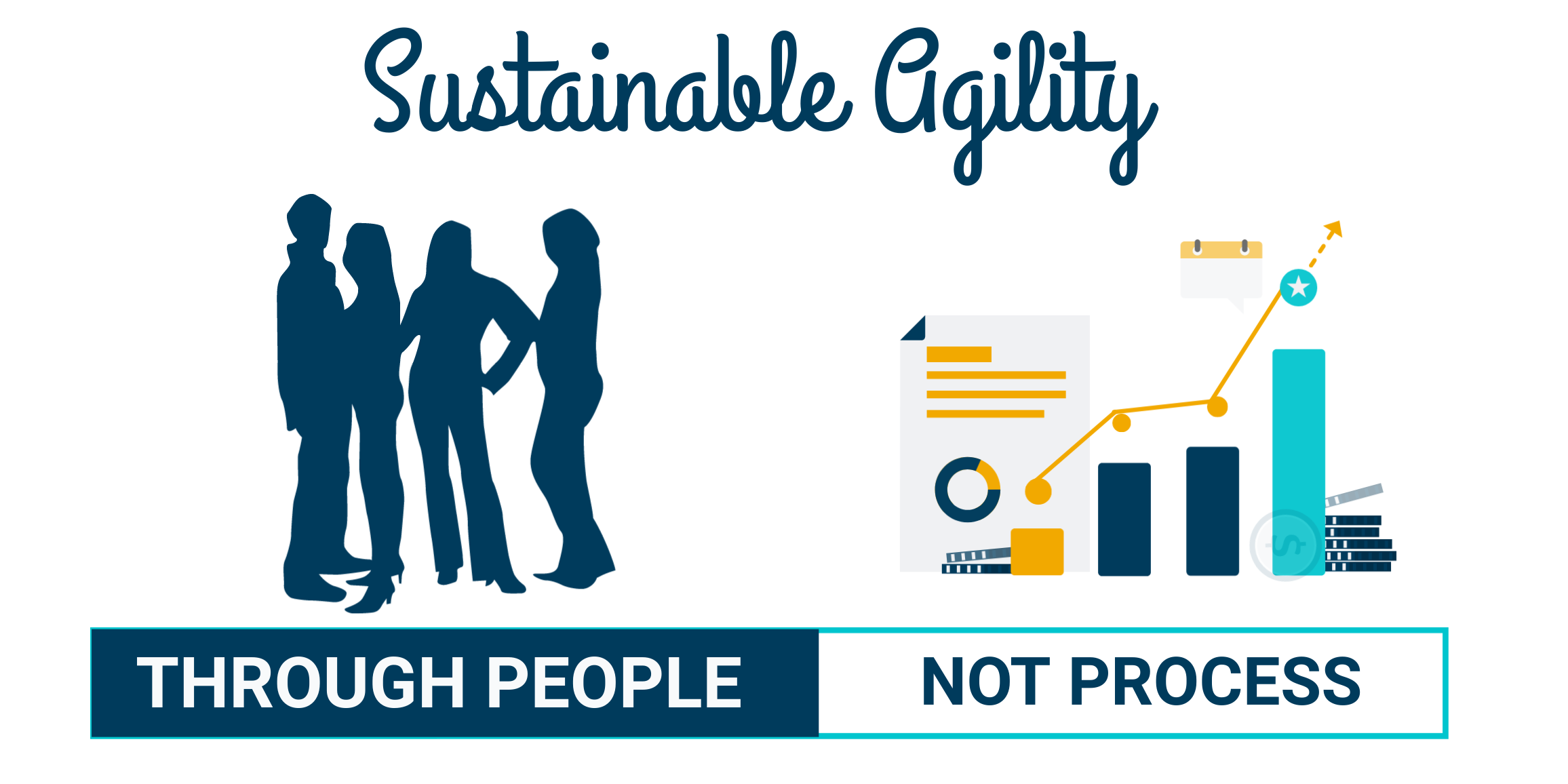 Developing agility in leadership
Imagine leaders who incentivize risk-taking, give teams space for innovation, adjust strategy based on direct customer insights, and let purpose drive process. Imagine your workforce aligned and passionate about your organization's mission. Imagine a place where people are not only safe but encouraged to challenge the status quo and facilitate divergent thinking. Imagine everyone working as one team, fully aware of how their work aligns with strategic goals. Zoom in further and you'll see that we are talking about observable behaviors, not tools, processes, etc.
Many of these behaviors are executive and leadership behaviors. At a minimum, they are behaviors that need to be internalized and modeled by leaders. As is often discussed in leadership development:
"I, as a leader, cannot take an organization any farther than I can go myself. If I haven't developed the presence and self-management to be with and create alignment from conflict in teams and organizations I cannot model or create the environment for others to do the same."
First, leaders must transform themselves through a vertical development journey before they can catalyze the essential behavior change across an organization.
Vertical Development
Vertical leadership development focuses on expanding one's mindset, mental models, sense-making, and overall presence and identity as a leader. It centers on behaviors and the "being" of leadership. This is in contrast to horizontal leadership development, which is about increasing knowledge, skill, and expertise. Developing agility in leadership requires a focus on self-awareness, self-management, development of a growth mindset, and continual assessment and self-development.
The journey also incorporates relationship agility, including emotional intelligence skills and the ability to develop leaders at all levels of organizations. At the organizational level, agile leaders must also cultivate strong situational and systems awareness as they increase their ability to make sense of and lead in complexity. This personal transformation involves letting go of expertise and having the right answer in favor of creating an environment for continuous learning and change.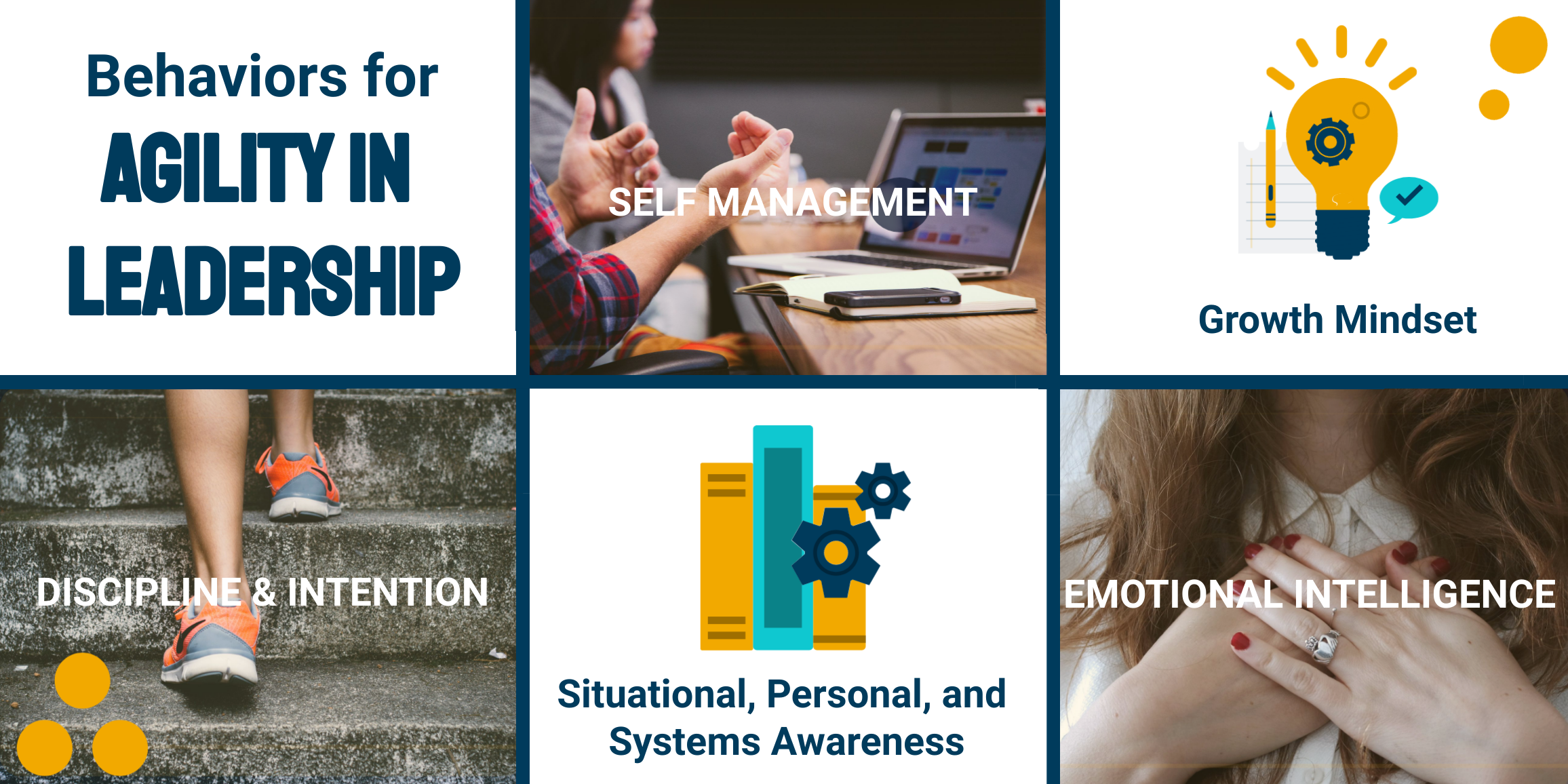 Where does coaching come in?
The journey towards agility in leadership is ongoing and requires discipline and intention. Moreover, to thrive in complexity, organizations need leaders at all levels who genuinely own their reality and their impact on the organization. At the enterprise level, coaching is essential to partner with leaders in their own development and co-create change strategies in alignment with the organization's vision.
Enterprise agile coaches have a deep understanding of organizational systems and help advise on the structures, processes, and measures that best support business outcomes. They also help develop a culture of learning that enables the organization to evolve its structures, processes, and measures when the organizational reality inevitably changes. Without agility in leadership, organizations are left with sets of tools and techniques that inevitably fall short of creating the depth of cultural and behavioral change that fuels business agility.
---
Ready to embark on this journey to build agility in leadership and enterprise and/or team coaching capability within yourself and your organization? Investigate ICAgile's Leading Change Learning Program today.