Picture this: You are an agile coach working as a consultant at an organization that has recently acquired several smaller companies. Due to the acquisitions, you are seeing high staff turnover and rapid changing of roles. You are not sure the role you are performing can deliver the value agreed upon in the coaching agreement. What should you do?
Ethical questions like these have always been part of the agile coaching profession, but there hasn't always been clear guidance or governance around ethics in agile coaching.

At ICAgile, we are proud to be recognized as a leading organization in the agile coaching field, with a strong commitment to upholding ethical standards. As the field of agile coaching grows, our goal is to ensure that all ICAgile-certified coaches meet necessary ethical standards to promote positive outcomes for teams and organizations.
Why Ethics Matter
The agile coaching profession is currently unregulated, which means in addition to the positive support agile coaches can bring to individuals, teams, and organizations, harm can be done by unethical coaches, diminishing trust and safety. While an ethics code will not prevent unethical behavior, it can:
Guide agile coaches to act with integrity in all interactions
Protect clients (individuals, teams, systems, organizations) from harm and dishonesty
Raise awareness and visibility around what should be expected of an ethical agile coach, thereby elevating the profession
Creating a Code of Ethics for Agile Coaches
More than thirty agile coaches collaborated to create a draft code of ethics for agile coaches under the umbrella of the Agile Alliance, an independent non-profit that strives to advance the state of agile practices worldwide.
The code of ethics aims to promote professional conduct and ensure that coaches prioritize the interests of their clients and the agile community over their own interests. The code emphasizes the importance of respecting client confidentiality, providing honest and transparent feedback, and avoiding conflicts of interest. The draft code also outlines a process for reporting ethical violations and encourages coaches to continue their professional development.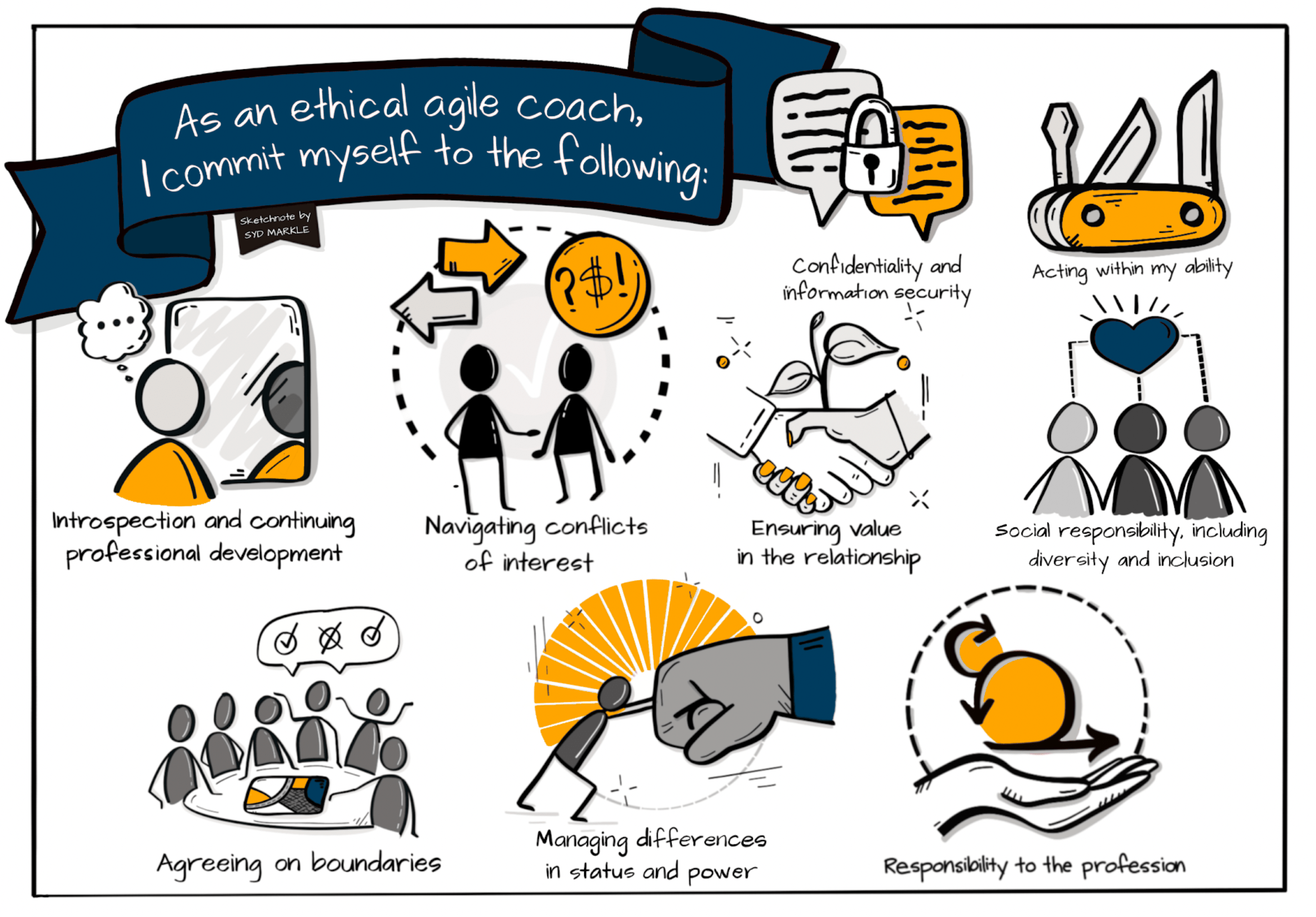 Image from Agile Alliance, released under the Creative Commons, Attribution, Share Alike 4.0 license
In order to represent the wider agile community, the committee solicited volunteers with diverse backgrounds and experiences. Several of the volunteers hold the ICAgile Expert Certification in agile coaching, are authorized instructors with ICAgile, or helped create ICAgile's course Learning Outcomes.
ICAgile's Ongoing Commitment to Ethical Agile Coaching
All of ICAgile's coaching courses and programs aim to engage learners in discussions about these situations to equip them with the knowledge and skills necessary to navigate them in an ethical manner. We understand that there are many tough situations with gray areas in coaching, which is why it is crucial to have conversations about how to handle them ethically.
In addition, our coaching courses and programs emphasize the importance of being aware of one's own biases and the way one shows up in coaching situations. Without this awareness, agile coaches can unintentionally do more harm than good. By leading conversations around ethics in the field of agile coaching, we hope to set a standard for ethical behavior and equip coaches with the tools necessary to act ethically in all situations.
We encourage all agile coaches to review the ethics code and commit to following it.